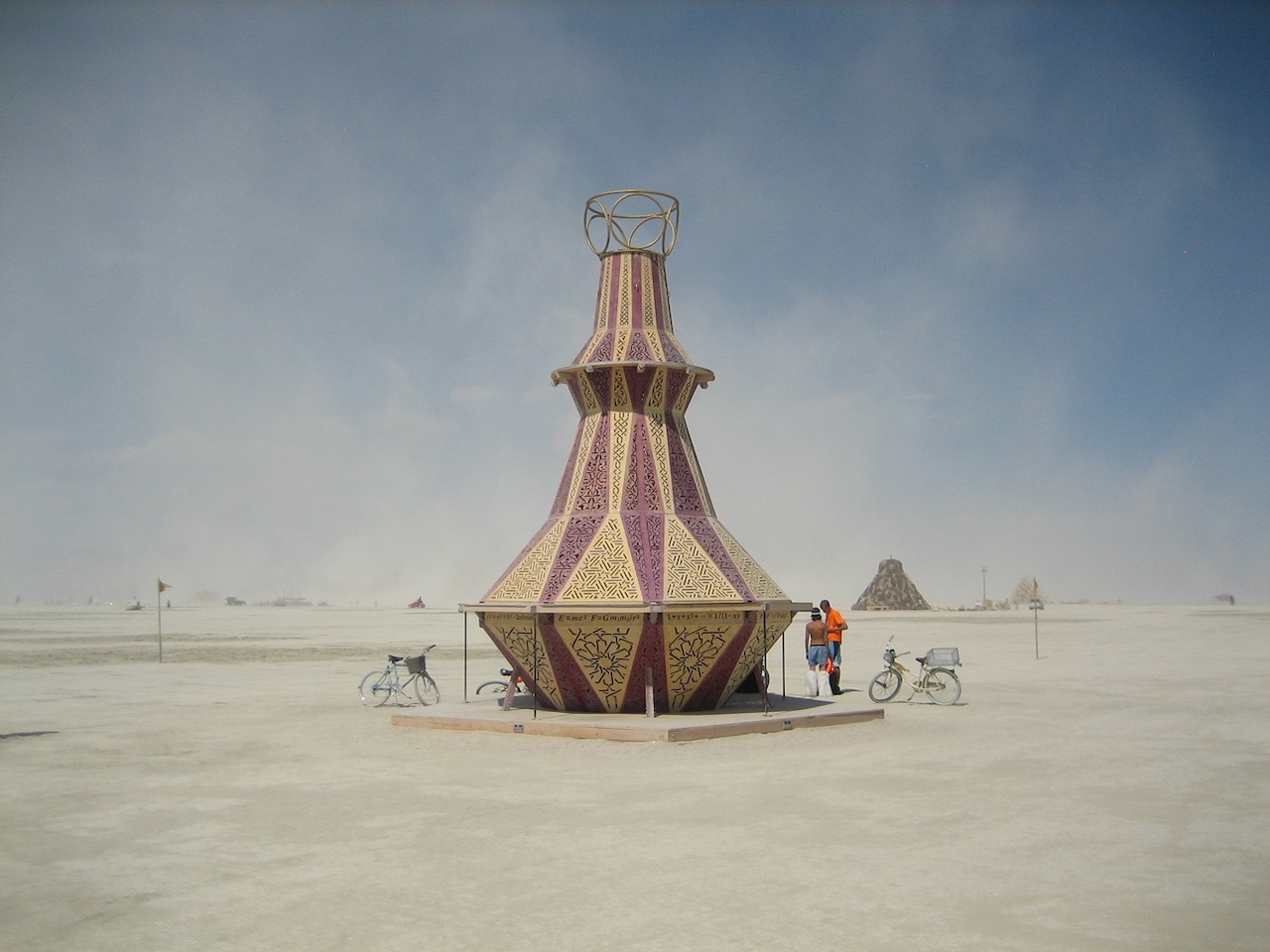 A bunch of us helped our friends Paul and Gwen take Genie Bottle to Burning Man in 2014.
Think I Dream of Jeannie, lounging in her genie bottle. Then add a crow's nest, a climbing wall, and a pole.
Genie Bottle was made from laser-cut plywood panels decorated with Arabian designs and mathematical expressions for fundamental laws (sacred script). It was twenty-five feet tall and weighed over four thousand pounds.
There were climbing holds up one side, so you could climb to the top, hang out in the crow's nest, and then slide down the pole.
The Burn
Genie Bottle didn't come home. Don't be sad, it wasn't designed to live forever and it burned beautifully (our pyromaniacs were the best).
This is all that was left the next morning.
The Build
Genie Bottle was the biggest project I've worked on at Burning Man. It took a lot of people, with a diverse set of skills, and most of year to pull off.
The entire structure was modeled in Solid Works. Full sheets of 3/4 inch plywood were laser-cut on a large industrial machine using inert gas to prevent charring. Steel was welded. Wool was dyed and spun into yarn to make giant tassels. Pillows were sewn and decorated. LED lighting was designed and programmed. Everything was test assembled at home.
Finally, it was time to load it all into a truck and head for the desert.
Installation
Some photos of the installation. The crane was provided by The Artery.
The day of the burn we gutted the interior and prepared the structure to make sure it would collapse in a safe and controlled manner. A layer of gravel had been put down on the site before we built to make it easier to clean up and remove the ashes after the burn.